Wingamin White Suffolk Stud was established by Clive and Deb Shillabeer in 1988 and is registered flock no. 50.
Wingamin is located near Karoonda in South Australia's Murray Mallee. The stud produces high quality stud and commercial rams for prime lamb production.
Brucellosis Accredited Free
Lambplan Performance Recorded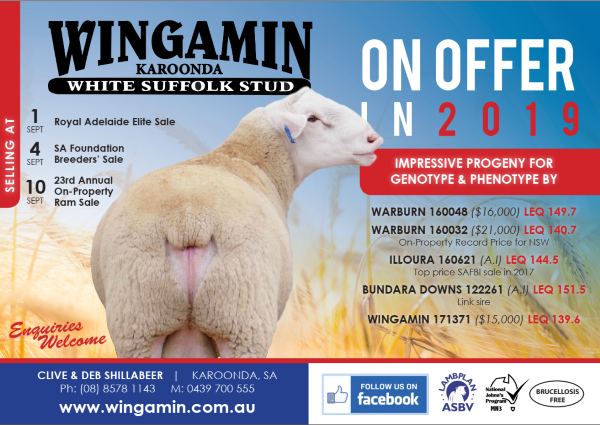 Hamilton
Sheepvention
4th - 6th August 2019
Royal Adelaide
Show
30th - 1st September 2019
SA Foundation
Breeders' Sale
Wednesday, 4th September 2019
23rd Annual
On-Property Sale
Tuesday, 10th September 2019
Follow Us
Wingamin 161140 doing a great job rearing quads sired by Wingamin 181744, a son of Warburn 160032.
W161140 is also the dam of stud ram 181709 in this year's show team. You can see him at Hamilton Sheepvention and the Royal Adelaide Show.

We will have 4 stud rams and 20 stud ewes coming up for auction at the SA White Suffolk Foundation Breeders' Invitation Stud Sale on Wednesday, September 4th. Details available soon. Please like our SAFBI sale fb page to stay up to date.

6 Years Ago 6 years ago...
Back in the day with a couple of our favourites: Wingamin 122676 and Wingamin 122714
Wingamin White Suffolk Stud shared a memory.

Photos from Wingamin White Suffolk Stud's post The year is flying by and today was spent working out our potential show team for 2019 and DNA testing.
Wingamin White Suffolk Stud is with Caitlin Shillabeer at Wingamin White Suffolk Stud.

We're donating an $800 ram voucher, up for grabs at the Elders Murray Bridge Beyond Blue Fundraising Auction this coming Friday night, June 21st. Click the link for more info.

Karoonda silo art work. Colour Up Karoonda. Wingamin 171371 up in lights on the Karoonda Silo as part of the wonderful animated art work projected onto Karoonda silo last night 16/6/19. (This clip is not the full presentation) The same projection will continue every night for the next month and new ones will follow.

28.5 mm of rain fell overnight and into this morning. We couldn't be happier! ☔️🙏
Wingamin White Suffolk Stud is with Deb Shillabeer and 2 others.

Significant changes to Lambplan being introduced in May 2019.

Happy New Year to all our Facebook followers.🎉
Looking forward to catching up with breeders at the National conference in February and throughout the year.
No expense has been spared in finding the right rams to complement our Wingamin flock and we look forward to presenting these new genetics to ...

A big shout out to everyone who has done it tough this year. We hope 2019 is better and brighter for everyone!