Feature sire for the up and coming 2022 ram sales:
High performing Warburn 160048 purchased in partnership for $16,000.
Outstanding, proven sire. Sons have sold for $32,000 x 2, $25,000, $19,000, $13,500 & $10,000 and have consistently topped flock ram sales for numerous studs that have used him by A.I. 
Daughters have sold to tops of $7,000, $6,500  & $6,000. You can't go past this ram if you want to pack a punch in your prime lamb enterprise or stud operation. (semen available)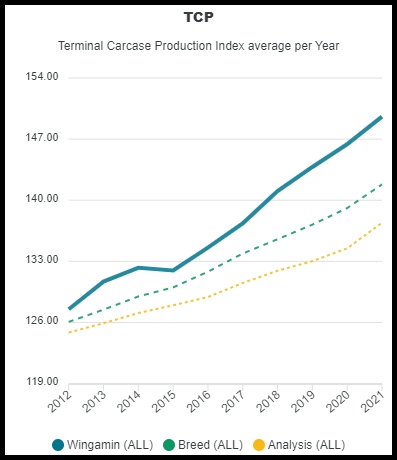 Rams have full health accreditations and performance figures
Property and flock attains OJD MN3 status #S110
Brucellosis Accredited Free #921
Lambplan ASBV's
The entire Wingamin flock is performance recorded through Lambplan.
ALL animals have birth weights, weaning weights and post weaning weights recorded and are scanned at age 5-6 months for fat and eye muscle depth.
This gives us the highest standard of data quality and accuracy for animals at early post weaning age.
PHENOTYPE counts!
Here at Wingamin we also put huge emphasis on selecting for economically important traits that lambplan doesn't measure but can equate to more dollars in your pocket such as body length (length weighs - length pays), carcase composition (excellent muscling and thickness through the loin and hindquarter - the expensive cuts!) moderate to large frame size for versatility (trade or export weights), excellent conformation and structural soundness for mobility and longevity, early maturity patterns with good do-ability, smooth, fine shoulders for easy lambing, good skins and short dense downs wool keeping lambs looking fresher for longer.
The difference is what you can see
The prime lamb industry is still reliable and the focus of our breeding program remains on meeting high industry standards. We've been breeding QUALITY White Suffolk rams for 34 years & offering them by auction on property at Karoonda for 26 years. That's breeding strength you can rely on!
STUD HISTORY
Wingamin White Suffolk Stud was established in 1988 by Clive and Deb Shillabeer
(registered flock 50). The stud's foundation sheep were purchased from top Suffolk, Poll Dorset and White Suffolk studs including the well renowned Elouera stud dispersal.
Four Suffolk rams (1 Burwood and 3 Allendale rams) were used over an eleven year period (as documented in the breed's flock register book) to reinforce a strong and sound
Suffolk base resulting in approximately half the flock being coloured during those years.
In 1993 we commenced showing to promote the breed and our increasing number of ideal white sheep. Successful from the start our show record reflects the depth of quality and soundness in our breeding flock. Our numerous championships and Interbreed wins at major shows over the past 28 years is testament to our dedication towards breed excellence and attention to detail.
One surreal year for us was in 2012 when we finished an amazing show circuit by taking out all three interbreed titles – Supreme Prime Lamb and Maternal Breeds Ram, Supreme Prime Lamb and Maternal Breeds Ewe and Supreme All Breeds Group at the Royal Adelaide Show. We capped off this unrivalled show run with the sale of our leading stud ram Wingamin 112462 "Trifecta" to Gary Heilig, Montana, USA, for $35,000.
We have been Lambplan performance recording for over 25 years and utilising industry leading sires to stay current and progressive. With performance and more recently eating quality at the forefront we have worked hard to maintain sound breeding decisions that have given us rapid genetic gain without compromising economically important visual traits such as structural soundness, carcase composition, good skins and dense downs wool. We are sure you will appreciate the quality in our up and coming ram sale on Wednesday, September 14th, 2022.

Visit our photo gallery to see our achievements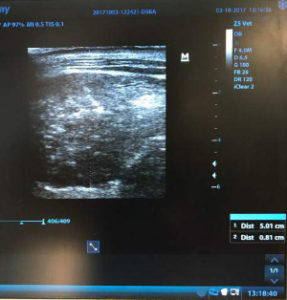 Above: one of our flock ram muscle scans
Lambplan assessed at 5-6 months.